Module 1: Emotion Episodes
 MODULE 1: EMOTION EPISODES 
This module teaches young people and their caregivers about emotion episodes: how they start and how they end and what happens in between.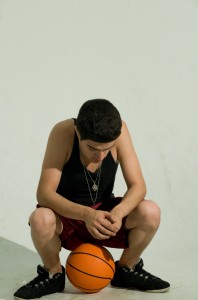 It reinforces the notion that emotions are normal, useful and a part of the enjoyment of everyday life. Emotion episodes also make sense, in that they tend to start when something in the environment is perceived to have changed, leading to greater or lesser chances that an important goal will be achieved.
In this module, we meet Carlos, a young person living in a group home, who struggles with intense emotions.
He talks to an odd assortment of folks to better understand an embarrassing emotion episode he had during a basketball game. A scientist teaches him about the brain during emotion episodes.A musician teaches him about the importance of emotions. And a weatherman teaches him about how emotional states are like the weather: they pass like weather fronts.
Mostly, we learn the role o f our goals in emotion episodes. We talk about the kinds of goals that are typical for young people, the kinds of goals that are typical for kids in foster care and how other people often don't know what goal is at play when we are in the midst of an emotion episode.
The activities in this module focus on identifying our important unspoken goals that, if threatened, lead to emotion episodes.
The caregiver version is substantially shorter and highlights the lessons learned about emotion episodes.
Access the online portion of this module  for young people HERE.
Access the online portion of this module for caregivers HERE.